Interactions with Other Drugs
Before administering benazepril to your cat or dog, make sure that your veterinarian is already aware of any other medications your pet currently takes. The board-certified veterinary cardiologists at CVCA have already taken these medications and interactions into account before prescribing benazepril, but please contact us regarding any other concurrent medications your pet may be prescribed. Here are some of the common interactions we see:
Beta-Blockers (Atenolol), Amlodipine, Diltiazem, Hydralazine: When benazepril is used in combination with any of these medications, there is an increased risk of low heart rate and low blood pressure.
Spironolactone, Tumil-K, Potassium Supplements: There is a high risk for high potassium levels when this medication is used with certain types of other potassium supplements.
Nonsteroidal Anti-Inflammatories (Rimadyl, Metacam, Deramaxx, etc.): Benazepril can increase the effectiveness of these types of drugs.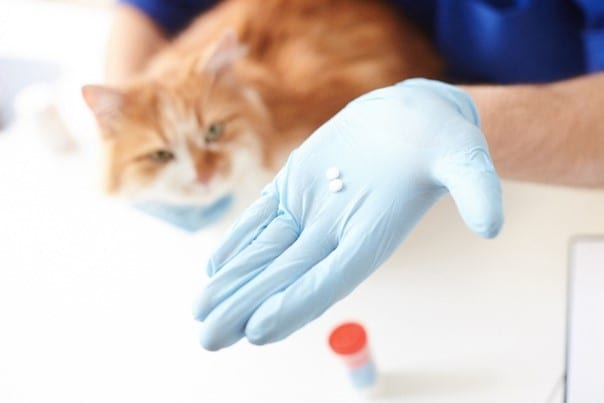 Patient Information on Benazepril
At CVCA, we want to make sure you're aware of all of the possible benazepril side effects and know how to administer the medication easily. Your CVCA veterinarian will give you detailed instructions, but here are a few essential tips to remember:
Benazepril can be given with food and other cardiac medications as outlined by CVCA.
This medication is usually given in pill form or reformulated into a flavored liquid, whatever is easiest for your cat or dog.
Depending on your pet, benazepril is usually given once a day to cats and twice a day to dogs.
We recommend closely monitoring your cat's or dog's blood pressure and heart rate while on this medication and having it rechecked at least every six months.
If anesthesia is ever required for your pet, contact your veterinarian about the dosage since benazepril could cause dosage changes.
Dosage Forms of Benazepril
Benazepril for dogs and cats comes in several medication forms. If your pet has difficulty taking one type of this medication, talk to one of the vets at CVCA to see what other forms may be possible. Here are the most common dosages you will see prescribed:
Enalapril Maleate – 2.5mg, 5mg, 10mg, and 20mg
Benazepril HCL Oral Film Coated Tablets – 5mg, 10mg, 20mg, and 40mg
Lisinopril – 2.5mg, 5mg, 10mg, 20mg, and 40mg
Benazepril Synonyms
Benazepril is a type of medication, not a brand name. Your pet's medication may be listed as one of the following synonyms for the drug:
Lotensin
Fortekor
Benazepril Hydrochloride
Enalapril
Vasotec
Enacard
Enalapril Maleate