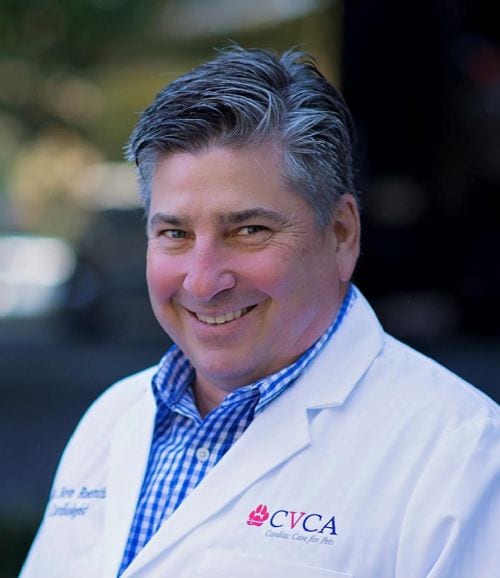 Steven Rosenthal
DVM, Diplomate, ACVIM (Cardiology)
Steven Rosenthal, DVM joined CVCA in 1994. A graduate of the University of Maryland, Dr. Rosenthal went on to receive his Doctorate in Veterinary Medicine from the University of Florida College of Veterinary Medicine. He completed both his small animal internship and cardiology residency at the Animal Medical Center in New York, after which he was a staff cardiologist for one year. Dr. Rosenthal is the cardiology consultant for the Smithsonian Institute National Zoo in Washington DC, the Maryland Zoo in Baltimore, and the National Aquarium and has been part of a number of cardiac publications in reference to zoo animal cardiac disease.
He has lectured on numerous occasions to students and colleagues alike. Dr. Rosenthal has been involved in the training of numerous veterinary students, interns and cardiology residents.  He is a Diplomate of the American College of Veterinary Internal Medicine in Cardiology and has been recognized professionally for various research projects.  His interests include the use of biomarker testing in the diagnosis and treatment of heart disease, clinical use of new cardiac medications, comparative cardiology within animal species and catheterization techniques for treatment of congenital heart disease.  Dr. Rosenthal has been active in the ACVIM College of Cardiology and has served as chairman of the examination, forum, and residency training committees.  He is an avid University of Maryland sports fan and enjoys golfing and skiing.  Dr. Rosenthal sees patients primarily in our office located inside of the Pet E.R. in Towson, MD.
©2023, CVCA - Cardiac Care for Pets. All Rights Reserved.