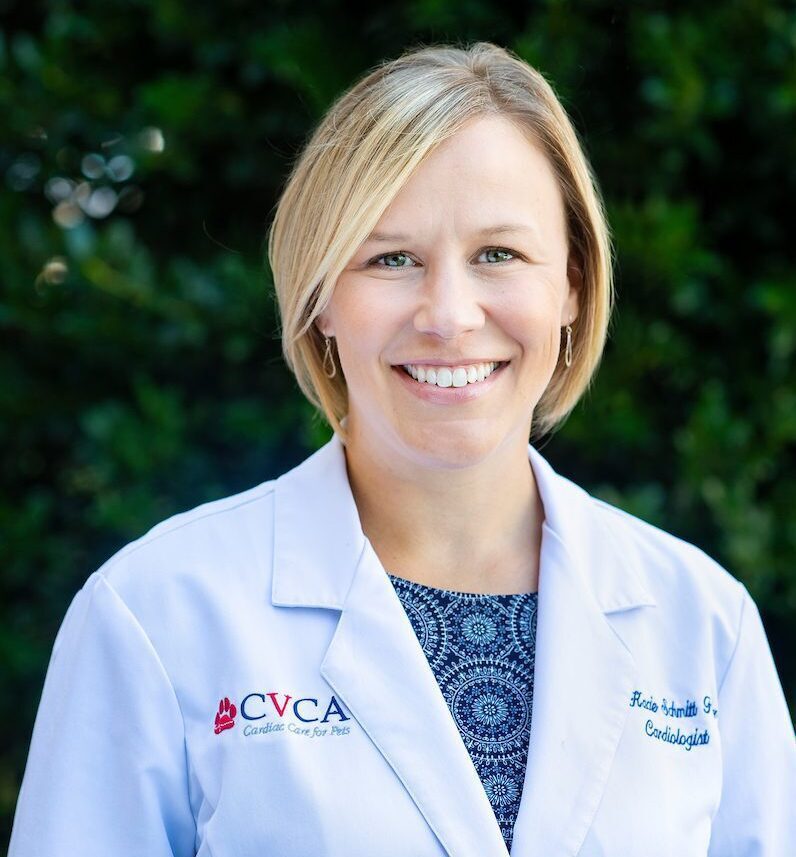 Kacie Schmitt Felber
DVM, Diplomate, ACVIM (Cardiology)
Dr. Kacie Schmitt Felber was born and raised in Cumberland, MD. She received her Bachelor of Science in Poultry Science from North Carolina State University and graduated Summa Cum Laude. She continued her education at North Carolina State University's College of Veterinary Medicine, and received her Doctor of Veterinary Medicine in 2008. Dr. Schmitt Felber completed a one-year comprehensive medical and surgical internship at VCA Veterinary Referral Associates in Gaithersburg, MD.  She continued training as a cardiology resident with CVCA Cardiac Care for Pets and achieved Diplomate status of the American College of Veterinary Internal Medicine (Cardiology) in 2013.  During each phase of her training, Dr. Schmitt Felber enjoyed being involved in various research projects and looks forward to future projects.
Her interests include management of congestive heart failure, interventional cardiology, the use of cardiac biomarkers in the emergency setting, and the use of cardiac biomarkers in the management and prognosis of congestive heart failure.  Realizing that every patient and family is unique, Dr. Schmitt Felber strives to promote open communication between CVCA, the primary care veterinarian, and clients ("the triad of care") as well as emotional and financial considerations when developing an optimal treatment plan for each case.
In her free time, Dr. Schmitt Felber enjoys spending time with her friends and family, including her horse, Solo, and French Bulldog, Maxine, as well as traveling.  She is an avid NC State football fan – GO PACK!
Dr. Schmitt Felber sees patients primarily inside our office in Frederick, Maryland inside of CARE Veterinary Center.
©2023, CVCA - Cardiac Care for Pets. All Rights Reserved.